What Our Customers Say
"LOVE THIS GAZEBO!"
We're so happy we purchased this particular cedar gazebo. It is beautiful and sturdy. We chose this one for its durability and the ability of the steel roof to handle snow accumulation. Our GoConfigure two-man crew completed assembly in just four hours!! They were very knowledgeable and professional. This gazebo is a backyard statement- very inviting and the cedar smells wonderful. We are totally satisfied with our purchase. It's our new three season hang-out space!
"BEAUTIFUL AND RUGGED!"
My husband and I are newly retired and decided that this Gazebo would be our first handyman project to begin our retirement with. The Gazebo instructions ALONG with the app worked very well. We were able to put the Gazebo together in about three days. We only needed help on the fourth day, when we installed the roof panels onto the Gazebo rafters. We were very impressed with how sturdy and strong the structure is. We had looked at other gazebo kits and most of them do not have wooden rafters. We think that this Gazebo Kit is top of the line and highly recommend the purchase of this kit, you will be thrilled!!!
"GREAT PRODUCT AT A GREAT PRICE!"
After researching gazebo options for about a year, our entire family voted to purchase this one. I'm so glad we did. It immediately became everyone's favorite place on our property. The pieces are sturdy and well constructed. There were no issues with quality, like I have read in reviews of gazebos from other companies. We love the look! The price is very reasonable compared to the competition. I definitely recommend this gazebo. Absolutely no regrets!
LONG-LASTING WOOD GAZEBOS
The lifespan of a gazebo comes down to the design and the materials used. That's why we build heavy-duty cedar wood frames and use galvanised-steel hardware throughout.
When you look at our gazebos, the size and shape of the steel brackets should stand out. We've examined the most likely points of weakness and potential moisture build-up and designed hardware to reinforce the overall strength while holding up to the elements.   
Naturally strong and rot-resistant cedar frames
Galvanised-steel support brackets and hardware
Powder-coated anchoring plates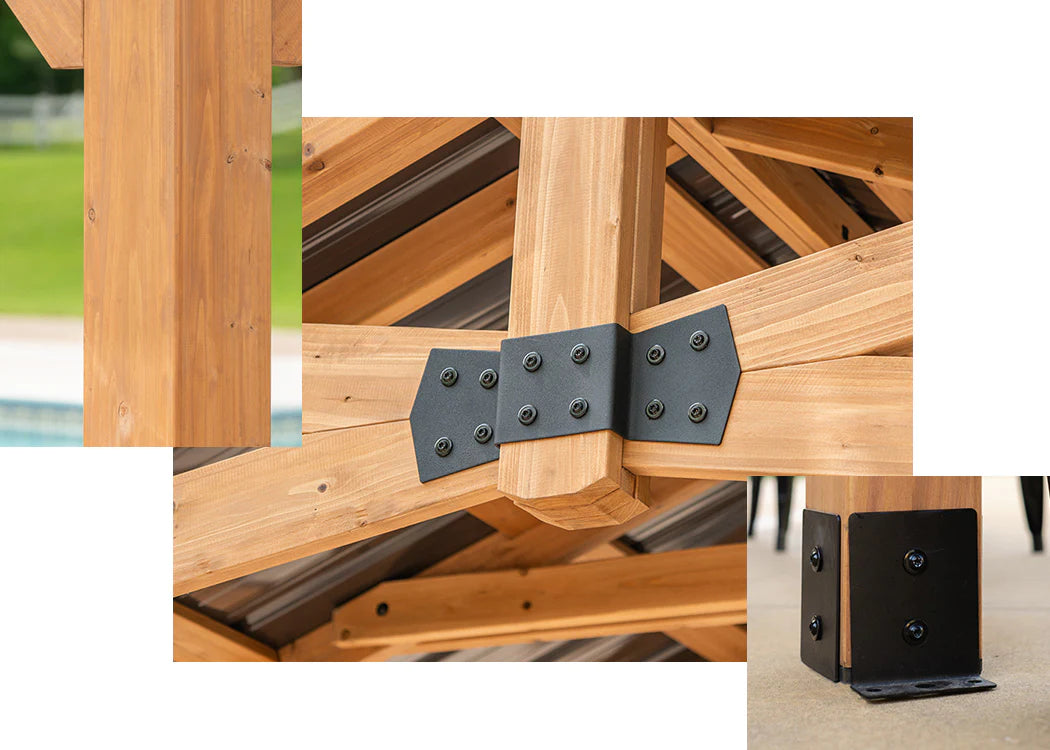 PRO-TECT® Certified
To ensure we've engineered the best possible gazebo for you, we've tested each of our designs to certify that they achieve the absolute highest standards in the industry.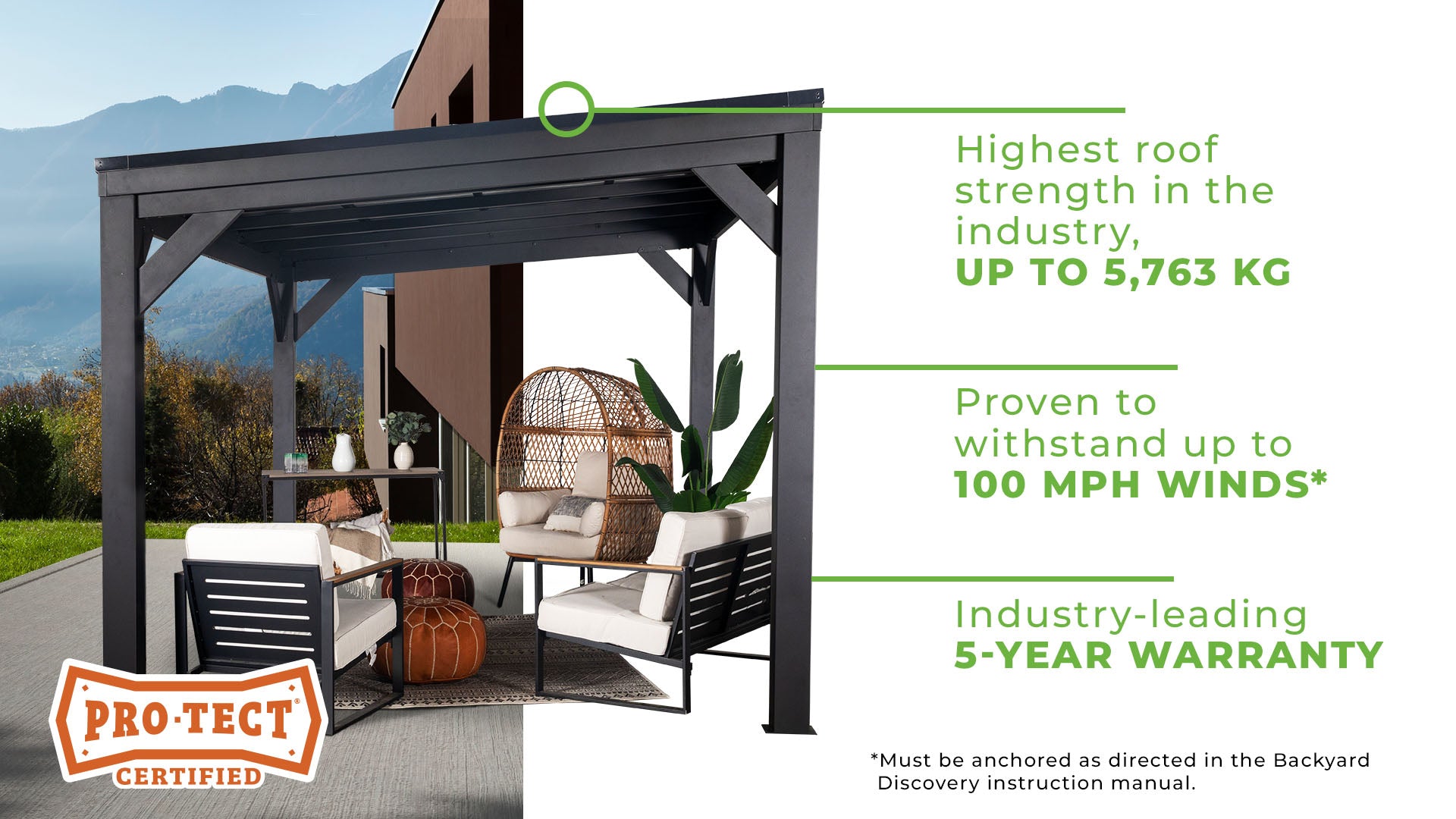 What To Watch Out for When Buying a Gazebo
Weak, lightweight aluminium roofs
Roofs that require snow removal
Low-quality footings that absorb moisture and weaken over time
Quality issues on soft-top gazebos that fade and wear out over time
Learn What Makes Backyard Discovery Gazebos Different
Solid engineering, strong weatherproof materials and features, and assembly support set our gazebos apart. Learn more about what sets Backyard Discovery gazebos apart and what to consider when shopping for a gazebo.