What Our Customers Say
"I AM VERY HAPPY WITH MY GAZEBO"
I bought a 14 x 10 gazebo to put on my deck because I have no trees in my backyard. We could not sit out on the deck in the summertime when the sun was hitting the deck because it was too hot. Now we can enjoy our deck all summer long, anytime of the day!
"BEST DANG CARPORT I DONE SEEN"
We live in Austin Texas so summer days can be extremely hot! The gazebo provides tremendous shade and comfort and is constructed from real wood. It has been a great addition to our home and I am looking forward to utilizing it all year round.
"PERFECT POOLSIDE GAZEBO!"
We purchased and built this gazebo last summer and couldn't be happier. All the pieces arrived as scheduled and undamaged. I built the gazebo primarily by myself and only needed a couple extra hands when putting up the 2 roof sections. It held the heavy snow load over the winter and the gazebo looks as good as it did a year ago when I put it up. I would highly recommend this product and we couldn't be happier with our purchase.
Wind-Resistant Gazebos
Did you know that some gazebos aren't meant to withstand more than a 30 mph wind? That means a strong gust could cause them to move a few inches or even topple over. For us, that's unacceptable.
 Our gazebos are tested to withstand wind up to 100 MPH*. That means you can trust your gazebo will be safe and secure in hurricane-force winds. And we have the customer stories to prove it! This is possible for several reasons:
Our corrosion-resistant steel roofs add weight to keep the gazebo grounded
Powder-coated steel anchoring plates include four 2" concrete screws that fasten it securely to your property
The all-metal roof design ensures that no loose parts like shingles fly off when the wind gets severe
Snow-Proof Gazebos
Snow can weigh up to 13 lbs. per square foot. If the roof of your gazebo is a soft top or made from weaker metals, like aluminium, that means one decent snowfall can lead to a total collapse.
Our gazebos are built to withstand the heaviest snowfalls. Thanks to the corrosion-resistant steel roofs supported by galvanised-steel hardware and durable cedar wood, they remain stable and strong throughout brutal winters.
Highest certified snow load in the industry 
Built to hold up to 244kg/sq m (76cm snow)
No requirement to clear snow from the roof, unlike aluminium roofs
Gazebos for All Seasons & Places
In addition to ensuring each gazebo is able to stay strong in the elements, we offer a variety of roof styles to fit the weather wherever you live. Below are some recommendations to consider. And if you find you like one style more than another, they all perform well.
Peak roofs are ideal for areas of heavier snowfall to allow snow to easily slide off
Hip roofs are good options for areas with higher rainfall because they provide the most complete coverage overhead 

PRO-TECT® Certified
To guarantee you have a truly weather-resistant gazebo, we test each of our designs to certify that they achieve the absolute highest standards in the industry.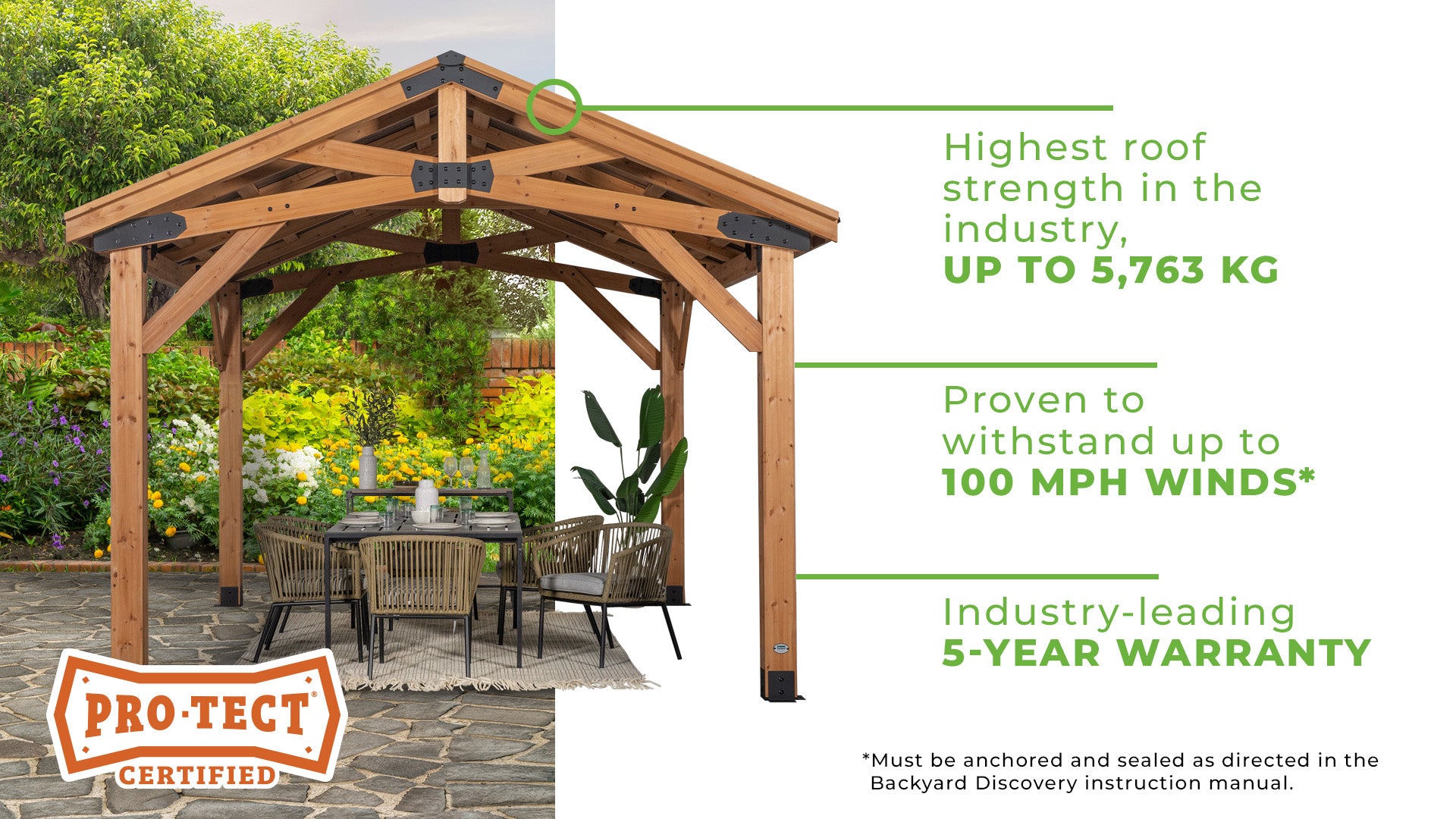 What To Watch Out for When Buying a Gazebo
Weak roof that requires snow removal
Claims of wind resistance without certification
Lack of heat-reducing technology in the roof structure
Quality issues on soft-top gazebos that fade and wear out over time
Learn What Makes Backyard Discovery Gazebos Different
Solid engineering, strong weatherproof materials and features, and assembly support set our gazebos apart. Learn more about what sets Backyard Discovery gazebos apart and what to consider when shopping for a gazebo.