What Our Customers Say
LOVE THIS BEAUTIFUL WHITE STEEL PERGOLA!
"Couldn't be happier with our steel pergola! It looks so pretty! We added white metal roofing, so we could enjoy the sound of the rain..awesome! Every screw & bolt was there & fit just as it should! Love it! Thank you for such a high quality product at such a reasonable price!"
WHERE DID YOU GET THIS?
"Everyone asks "Where did you get this?" We love this and I didn't realize how much it would add to our patio. It has created a poolside dining area with just the right amount of shade. I have a large round table that seats 8-10 people. There is plenty of room and I put a 10x10 outdoor rug under it. The electrical feature is perfect for plugging in blenders or phones. It is extremely heavy and well built. My husband and one helper put it up but could of used an extra hand! Delivery was easy and all parts were included in 4 boxes. Assembly directions were self explanatory."
LOOKS LIKE PART OF OUR HOUSE!
"Very happy with the look and quality!"
Ultra-Strong, Rust-Proof Steel Pergolas
To ensure the longevity of our pergolas, we rely on galvanised steel throughout the structure. We also carefully analyze potential weak spots and areas that could accumulate moisture, then reinforce the overall strength of the pergola with powder-coated hardware that can withstand exposure to the elements. 
Galvanised steel beams and posts
Powder-coated hardware and anchoring plates
Thicker metal walls than competitors to ensure stability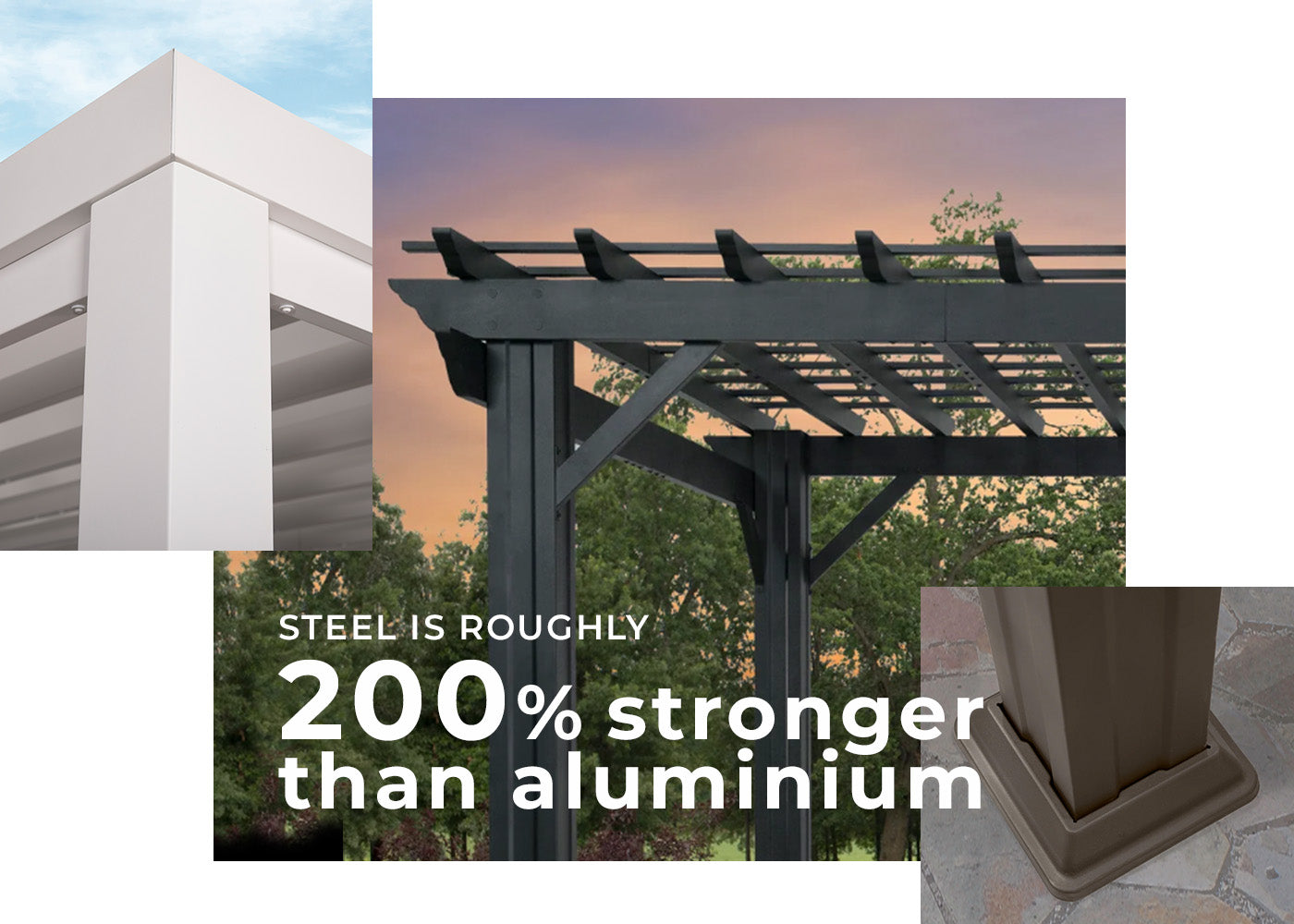 Wind Resistant Metal Pergolas
Our pergolas undergo rigorous testing to certify they can withstand even the most extreme weather conditions, including winds up to 100 MPH* — and we have numerous customer stories attesting to the safety and security of our pergolas during hurricane-force winds. This level of performance is possible for several reasons.
We use a thick steel gauge, which adds weight and helps keep the pergola grounded. 
Powder-coated steel anchoring plates with four 2" concrete screws securely fasten the structure to your property. 
Our all-metal design ensures that no loose parts fly off during severe winds.
PRO-TECT® Certified
To ensure we've engineered the best possible pergola for you, we've tested each of our designs to certify that they achieve the absolute highest standards in the industry.
What To Watch Out for When Buying a Metal Pergola
Weak, lightweight aluminium structures
Wind-resistance claims that haven't been tested
Low-quality footings that absorb moisture and weaken over time
Shop Backyard discovery metal pergolas
Learn What Makes Backyard Discovery Pergolas Different
Solid engineering in both wood and metal, wind-resistant design, and assembly support set our pergolas apart. Learn more about what sets Backyard Discovery apart and what to consider when shopping for a pergola.