Pro-Tect® Certified
A promise of quality is good. Testing and proving it is better.
STRENGTH IS STYLE
The structures you bring into your garden reflect your values. We respect that. Whether it's crafted from heavy-duty cedar or corrosion-resistant steel, we're tireless in our efforts to deliver the utmost strength and protection for you and your family. You can take our word on that. Better yet, look at the proof.
Wind Resistant Gazebos and Pergolas
Stability isn't something we take for granted and neither should you. Pergolas and gazebos can look like they'd withstand any sort of weather. But, the truth is weaker ones have the potential to topple over in storms with 30 mph winds. Strong gazebos and pergolas, like ours, can hold fast in hurricane-force winds.  
Our gazebos and pergolas are tested to withstand winds of up to 100 mph* 
It all starts with proper anchoring — pergolas and

gazebos

include four 2" concrete screws that fasten to your property
Customer stories prove how well Backyard Discovery products stand strong
Snow Proof Gazebos
Snow is heavy — up to 244kg/sq meter. That's why we test each design through proven industry methods, replicating and even far exceeding the load a gazebo roof will need to withstand in heavy snowfalls. Thanks to our corrosion-resistant steel roofs, our gazebos have proven to remain stable and strong under the harshest winter conditions.
Highest certified roof strength in the industry 
Built to hold up to 244kg/sq m (76cm snow)
No requirement to clear snow from the roof, unlike aluminium roofs
ALWAYS GETTING STRONGER
Our PRO-TECT® Certified products showcase the highest levels of strength, quality, and safety for your backyard. We're committed to always pursuing new methods, materials, and testing to guarantee that you enjoy the very best.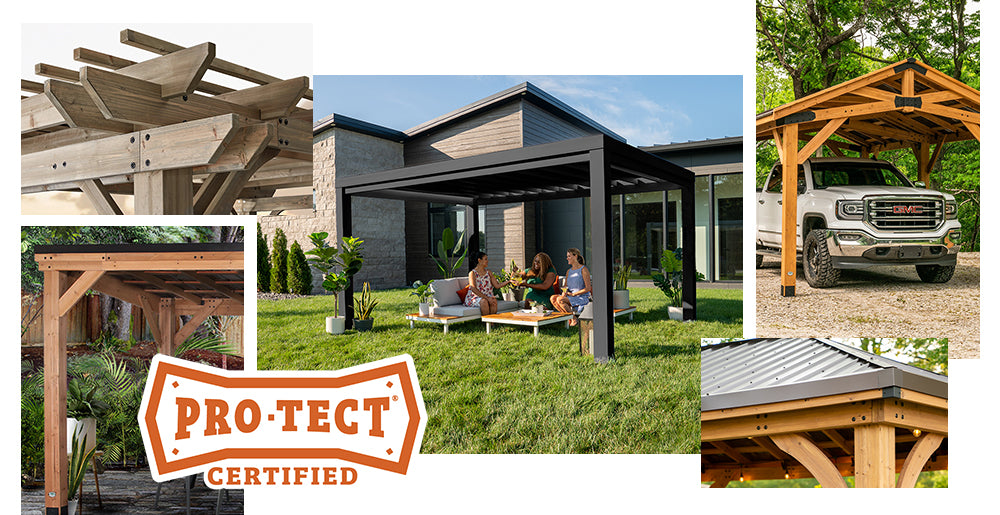 Shop PRO-TECT® Certified Products