What Our Customers Say
REALLY MAKES OUR BACKYARD BEAUTIFUL
"I have always wanted a pergola, so I am very happy with this one. I love that it comes with a power outlet which makes it a breeze adding string lights to it. You can sit and enjoy nature; or bring alexa out, plug it in to the outlet, enjoy enjoy some music with a glass of wine. It ceates a wonderful place to relax."
THIS PERGOLA IS THE FAMILY FAVORITE HANGOUT SPOT
"We bought this Pergola just over a year ago, and it's quickly become the favorite spot to relax for every member of the family. With the accompanying plants, this Pergola is now the center piece of our yard."
EXCELLENT VALUE
"Pergola features sturdy construction, convenient power, and looks even better in person than online!"
Heavy-Duty 100% Cedar Construction
We could be biased, but cedar sure seems like Mother Nature's gift to outdoor structures. Thanks to its naturally rot-resistant structure, it doesn't need to be chemically treated to remain sturdy and good-looking. Plus, it doesn't absorb much heat which means it can stay cool to the touch on the hottest days.
Naturally decay resistant
Tight-knot structure less likely to develop cracks
Ability to be stained to your desired color and sealed for lasting endurance
Wind-Resistant Cedar Pergolas
We subject our wood pergolas to rigorous testing to ensure they can withstand the most severe weather conditions, including winds up to 100 MPH*, and have happy customers sharing stories about their resilience during hurricane-force winds. This level of performance is possible due to several factors.
First, our designs ensure the beams, posts, and bracings work together to provide stability. 
Additionally, powder-coated steel anchoring plates with four 2" concrete screws securely fasten the structure to your property. 
Finally, our metal hardware withstands all the elements to remain stable season after season.
UV Protection & Shade with Soft Sail Canopy
Select pergolas have the option to include a light-filtering soft sail shade canopy. This UV-protected, breathable woven fabric allows air and water to flow through freely, so there's no need to worry about pooling water on rainy days.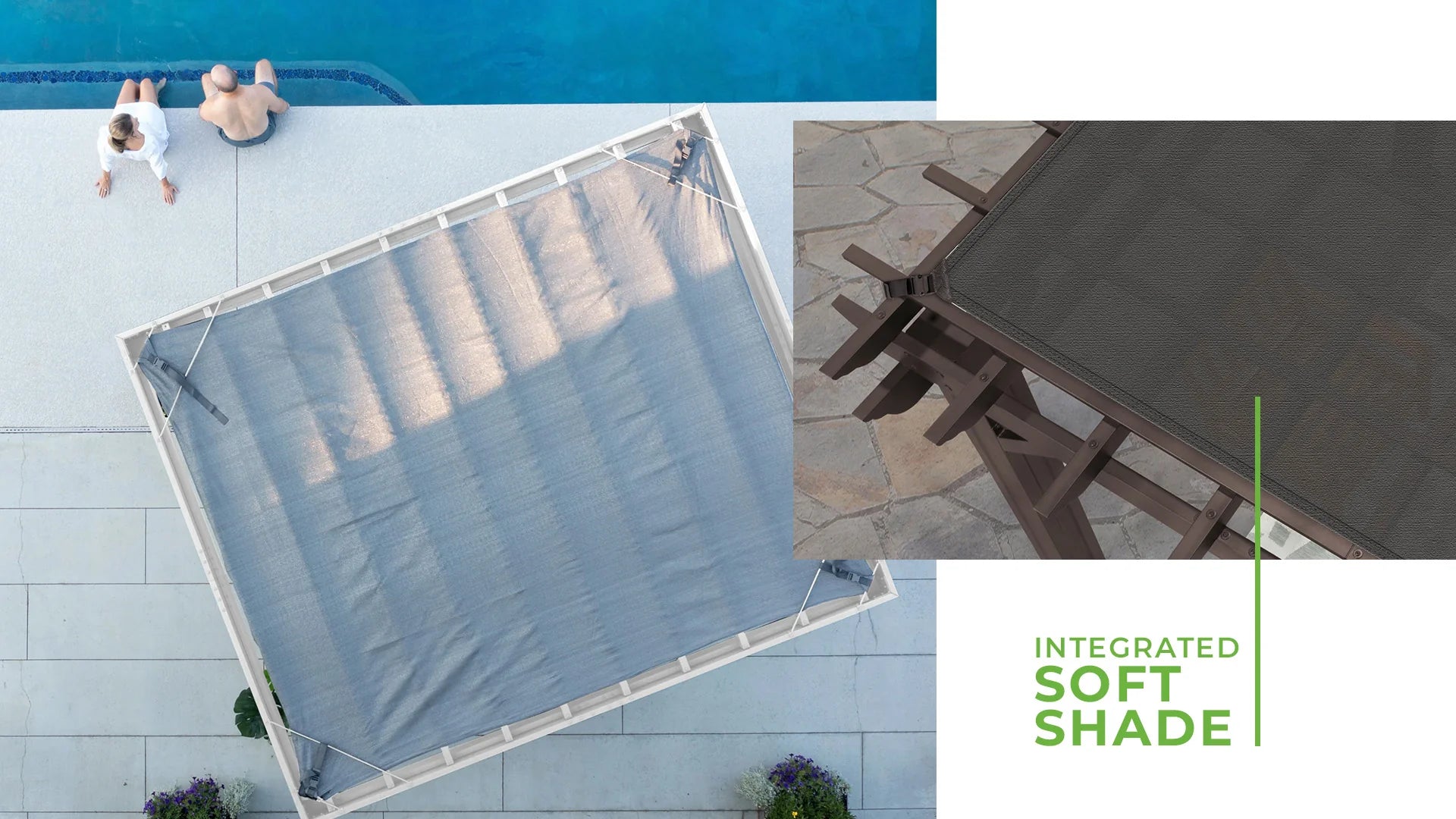 PRO-TECT® Certified
To ensure we've engineered the best possible pergola for you, we've tested each of our designs to certify that they achieve the absolute highest standards in the industry.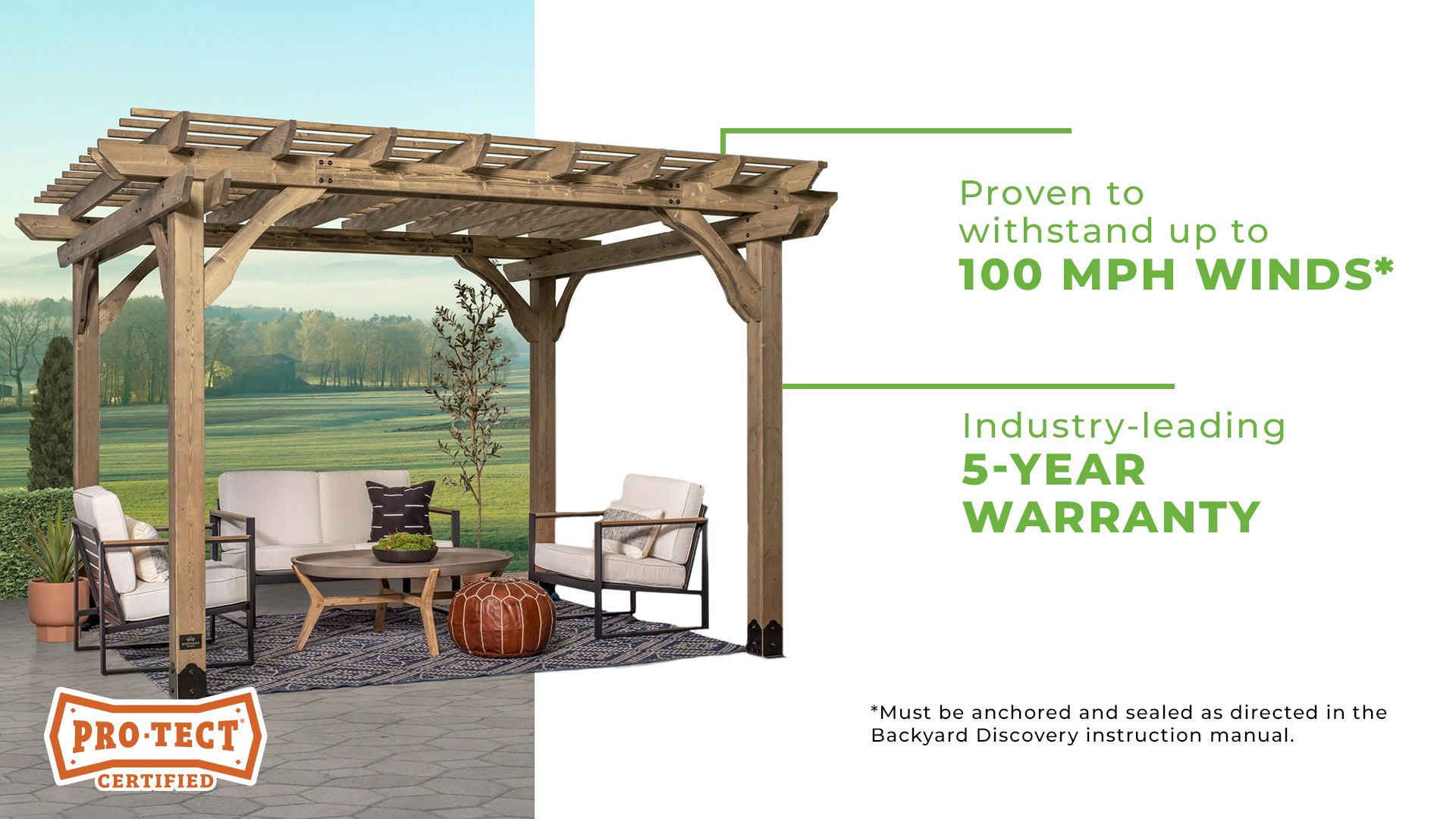 What To Watch Out for When Buying a Wood Pergola
Lower quality wood that won't last
Wind-resistance claims that haven't been tested
Low-quality footings that absorb moisture and weaken over time
Shop Backyard discovery wood pergolas
Learn What Makes Backyard Discovery Pergolas Different
Solid engineering in both wood and metal, wind-resistant design, and assembly support set our pergolas apart. Learn more about what sets Backyard Discovery apart and what to consider when shopping for a pergola.